Noticeboard
CAF Champions League Match Re-broadcast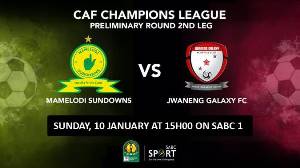 10 January at 15h00 on SABC 1
MEDIA STATEMENT
SABC TO RE-BROADCAST THE CAF CHAMPIONS LEAGUE MATCH BETWEEN MAMELODI SUNDOWNS FC AND JWANENG GALAXY FC
Johannesburg, Wednesday, 06 January 2021 - The South African Broadcasting Corporation (SABC) will re-broadcast the second leg of the Confederation of African Football (CAF) Champions League match this Sunday, 10 January at 15h00 on SABC 1. This follows the interruption of yesterday's live broadcast of the match between Mamelodi Sundowns FC and Jwaneng Gala, 17min into the second half, with Mamelodi Sundowns leading with 1-0.
The match was initially scheduled to start at 16h00 but was delayed for 47 minutes, affecting the broadcasting channel's initial schedule. This also resulted in the transmission of the match being cut short to cross over to the live SABC News bulletin which had been rescheduled from 17h30 to 18h00 to accommodate the live broadcast of the match.
The SABC understands the public's concerns and wishes to apologise for not being able to complete the broadcast of the CAFCL match, which Mamelodi Sundowns won 3 – 1, booking their spot in the group stages of the CAFCL.
ENDS
Issued by: Group Communications
Media Enquiries:       Mmoni Seapolelo (Acting Spokesperson)
seapolelomv@sabc.co.za | T. 011 714 3057 |C. 073 688 1590