Facilities
Fly Away Units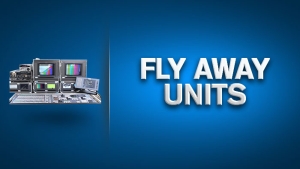 Details about fly away units
Production Area
DVS 9000 2 M/E and Aux, 34 input production switcher.
4 Keyers and 4ch Transform Engine.
Monitors
10 x Sony LMD-720W Dual 19cmWidescreen monitors
2 x Sony PVM-14L3 37cm (TX+PVW)
Communication
Mini Matrix 24 x 24 Port Digital Intercom
Intercom Stations in all areas
Radio IFP
4 x Radio belt packs
2 wire belt packs
4 wire interfaces to Telkom lines.

Additional on request
Duplex radio belt packs
Walkie Talkies
Telephones
Digital Cellular phone
System
Sync Pulse Generator
Tektronix waveform and Vector scopes.
Double screened balanced audio cables.
Broadcast quality video, audio
distribution amplifiers and interface modules.
All power outlets protected by trip switches and earth leakage.
Vision/VTR area
1 x 4 CH EVS
4 x Sony DSR-DR1000P Disc
2 x Sony XDCAM SD Recorders
1 x DVD + VHS recorder
64x64 SD Video Router
Router Panels for all areas
Audio Monitors for all areas

Support Facilities
Can operate from single phase 220V supply.
General Description


The equipment is installed into flight boxes for transport by road or air. The boxes are interconnected to form a full production facility. It comprises of a Production, Sound and Vision/VTR area. The video standard is PAL 4:3/16:9 SDI.  ITU-601.
Cameras
6 x Sony E30 Wide Screen Digital cameras with RCU 16x9/4x3 switchable) Lenses.
3 X 55:1 Canon Box Lenses with 2 x extender full servo kits.
2 x 20:1 Canon ENG 2 x extender full servo CANON
1 x 11:1 ENG Wide Angle 2 x extender full servo CANON
Vinten tripods/pan and tilt heads
All cameras are equipped with a remote Camera Contrul Unit.
Audio
Yamaha 02R96 digital consule (Ver 2)
54 programmable channels in 3 layers
16 x 16 Dual Audio RSW
Assorted cabled microphones
2 x Glensound Commentator Units
Core Crew
Unit Supervisor
Cameramen
Sound Operator

We can source crew for all other discipline