Facilities
Support Equipment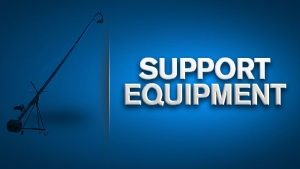 D-Cam
D-cams are RF (rangefinder) cameras. They transmit their pictures over microwaves/ microwave links instead of cables. Their advantages is portability and flexibility, and, are used on Golf courses and everywhere.
Beauty Camera
It is usually firmly fixed onto one position to capture a wide angle (with no camera operator). The name is suggestive of a beautiful shot with wide space coverage.
Q-Ball
A Q-Ball is an unmanned, portable, very small camera that can be placed/ mounted anywhere. The Q-Ball features are its fast pan & tilt and rotational capabilities, using remote Joystick controls and Colour matching controls. This camera can be mounted upright or inverted. By using the Joystick, framing can be done, as well as zoom, focus pan & tilt.
Jimmy Jib Camera
It is a device with a camera on one end and camera controls on the opposite end. It can move horizontally or vertically or in an arc shape. Its advantage when in use is that it can get high shots without the expense of putting a camera operator on a crane for a crane shot.
Lighting

 
TVOB is supported by its own Lighting Department (for in-house productions) which consists of various kinds of fixtures.
For bigger co-productions, moving lights and rigging equipment is hired from external lighting companies.
All equipment is supported with accessories such as:
Power cables, Socapex and data cables
Various distribution boxes
Lighting stands and clamps
Tungsten (3200K) Studio lamps:
5kW Fresnal – pole operated
2kW Fresnal – pole operated
1kW Fresnal – pole and manual operated
2kW Quarts Blonde kits (2 lamps)
800W Red Head Kits (3 lamps)
2kW Soft lights – manual operated
5kW Soft lights  - pole operated
Daylight (5800K) HMI Fixtures:
6kW HMI Sirio – Conventional type
4kW HMI Sirio – Conventional type
4kW HMI RDS – Conventional type
4kW HMI Desisti – Flicker free
2.5kW HMI Sirio – Conventional type
2.5kW HMI RDS – Conventional type
1.2kw HMI Filmgear – Flicker free
1.2kW HMI Filmgear – Cine-parr flicker free
.575kW HMI Sirio – Conventional type
LED fixtures:
Longman F4 Parr fixtures (180W)
Phillips Parr Zoom (155W)
Parr LED SRL (45W)
Desisti 120W Fresnal – 3200K Pole operated
Quartz 120W Fresnal – 320K Pole operated
Quartz 180W Fresnal – 3200K Pole operated
Socanland 100W panel – 5800K – bi focus
Socanland 100W panel – bi colour
Socanland 50W panel – bi colour
Socanland 10W camera light – bi colour
Control desks and Wireless:
Arri  Impulse2  108 channel desk – DMX
Strand MX48 lighting desk – DMX/D54
Avolite Titan & wing
MA Dot2 & wing
Lumen RDM wireless control
Dimmers:
Avolite 5kW 12 Way digital dimmer
Avolite 5kW  36Way digital dimmer
Avolite 4kW 36 Way digital dimmers – patchable legs
Avolite 3kW 36 Way digital dimmer
Jands 2.5kW HP12 dimmers
Generators
Generators are used mostly during live productions for broadcast purposes. All OB facilities run on synchronized generators (the one as a back-up in case the other fails)
We have:
4 x 100 KVA (silent)
2 x 150 KVA (silent)
4 x 32 KVA

Mounted Generator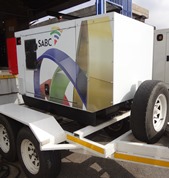 DSNG
A DSNG is a transmission unit/van, used mainly for live events, for broadcast purposes. It is known as a digital satellite news gathering unit.
SABC TVOB has 5 DSNG units plus an ENG (Electronic News Gathering Unit), all in JHB, except for one CPT-based DSNG van. These are all wired to carry 2 cameras, but one is mostly used, and as such is referred to as a single camera unit (SCU).
During news crossings, the crew goes on site; they power-up the van, set-up for transmission (get van ready). Engineers book a space segment in advance from satellite owners and get allocated to a space segment or put on transponders. Engineers compress the picture to economize space, which can be translated into a cost-cutting exercise.
A final output from the OB van goes to the DSNG for transmission. A DSNG unit has to always be there for a live transmission. Basically, that it is called a news gathering unit does not limit it to news, but every live production is possible as a result of a DSNG 's connectivity. It can be referred to as a satellite transceiver, as it receives and also transmits.
During news live crossings, a cable is limited to 180m from where the van and the journalist are. The production on 180m cable is possible on a very good cable.
During a production, cameras are synchronized such that viewers do not see the cuttings from one to another, hence the seamless, smooth production.
A production is recorded in HD, then down-converted to SD (DSNG's are standard definition). The transmission path is from the DSNG to satellite, then to MCR Receiver (main/ master control room), to the studio, then to FCC (Final Control Centre), and then to Sentech.  Actual transmission takes place from L-Band to BUC, which up-converts to KU-Band, which has a higher frequency, sending electro-magnetic waves (microwaves). The C-Band, which is lower frequency, requires a bigger dish.
Microwave Links 
A microwave link is a point-to-point communication system used to transmit pictures, audio and data over the air. Point-to-point links are limited to about 60kms. Anything above 70kms, transmission requires satellite. A DSNG unit does not have to be used if there is a line of sight to a destination, e.g. from FNB Stadium to the SABC, whereby a dish is connected to Brixton Tower and another mounted on top of the OB van, so they point to each other/ aligned to each other. A disadvantage with a microwave link is distance.
ATM
An alternative to a microwave link is the ATM, an Asynchronous Transfer Mode. With an ATM, encoders and decoders are connected on both ends of the fibre in order to transmit audio, video and data. ATM uses fibre as a medium of transport, whereas a microwave link uses microwave and free space. Weather and distance are not an issue with ATM connection.
IPT
This is an Internet Protocol Terminal which is a miniature of a DSNG unit. Its advantages are its portability and the ease with which it is operated, as it can be operated even by a non-technical person, only if given quick training. With it, one just plugs to encoders and decoders and then transmits. While its size is advantageous, it can also be a disadvantage, as the dish and the amplifier are too small to transmit good quality pictures. IPT is good for news events as the focus is on talking heads (journalists/ reporters), and not for sports events. Sports have a lot of movement with a lot of data that cannot be compressed too much.
Chopper Racks and Bike-Systems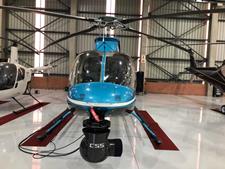 GYRO Cam.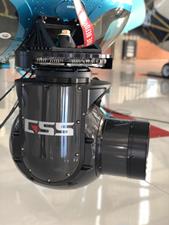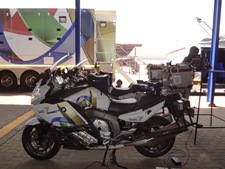 These are used to broadcast road races of any nature. Pictures are transmitted using microwave links. These microwave links antennaes are placed on the belly of the helicopter for transmission and receiving. Chopper Racks are used to repeat the signal coming from the bike below. The bike will have the camera (any) and a microwave link transmitting up to the helicopter.
The Chopper Rack consists of monitors, radios, microwave links and power supplies. All these are used for monitoring and re-transmitting the signal.
During a Comrades Marathon production for instance, a Director of the production sits at the finish end (Pietermaritzburg, if the starting point is Durban). Links crew position themselves on a high mountain almost in the middle of the rout, where engineers sit with microwave dishes. They track the movement of the chopper which repeats the signal (pictures/ images captured) coming from the bike. Once pictures are received, they re-transmit them to the Director via the DSNG. Delay of transmission from what actually takes place at a given moment to the time a viewer watching TV on terrestrial line is about 5 seconds. A challenge a crew faces during a production of this nature is to think on one's feet. There's immense pressure to get it right and avoid production glitches at all cost. All the controls are done in the HTOC (Hi-Tech Operating Centre) van.
VIRTUAL STUDIO TRICASTER 8000 has been installed in provincial studios. Sets can be changed electronically; no 
set building required.
VCOM VOIP COMMUNICATIONS uses standard computer or cellphone hardware as used in:
SOCCER WORLD CUP 2010
ELECTIONS
LONDON OLYMPICS 2012
LONDON RUGBY WORLD CUP 2015
MARATHONS
CONFERENCING SYSTEM (R&D PROTOTYPE) USES VOIP (VOICE OVER INTERNET PROTOCOL)
2 CAMERA DSNG is developed for cost-effective News & Sport 20 camera productions. It is a satellite production facility 
with generator incorporated in one vehicle.
DMNG uses multiple cellular modems to send live video as used in:
2011 NEW ZEALAND RUGBY WORLD CUP
2012 LONDON OLYMPICS
2014 BRAZIL CONFEDERATION CUP
INCAM is a cableless camera system as used on:
RUGBY WORLD CUP 2015 HENLEY SPORTS STUDIOS
RUGBY WORLD CUP  IN LONDON
TRICASTER MINI enables social media streaming using consumer GoPro cameras.