Facilities
DSNG (we currently have 6 Digital Satellite News Gathering Units)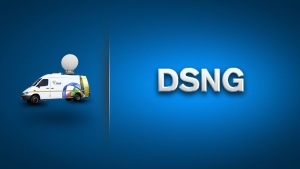 A digital satellite news gathering unit (DSNG) is a transmission unit/van, used mainly for live events, for broadcast purposes. These vans/units are used for quick deployments. SABC TVOB has 5 DSNG units plus an ENG (Electronic News Gathering Unit), all in JHB, except for one CPT-based DSNG van. These are all wired to carry 2 cameras, but one is mostly used, and as such is referred to as a single camera unit (SCU). That it is called a news gathering unit does not limit it to news productions, but every live production is possible as a result of a DSNG's connectivity. It can be referred to as a satellite transceiver; as it receives and also transmits.  A final output from the OB van goes to the DSNG for transmission. A DSNG unit has to always be there for a live transmission. A cameraman and a technician or 2 are required to operate this unit.
DSNG 1J and 2J are digital satellite vehicles based on a Mercedes Benz Sprinter LWB chassis.
Dual thread system operating on Ku band.

Each thread consists of a Tandberg ES 5740L-band encoder and a  Xicom 400watt TWT power amplifier.

The dish is a 1.5 meter Swedish with 45dB Tx gain.
Communication is via two Bluetooth cell phones connected to a Comms panel allowing loudspeaker and / or earpiece operation.
A third L band encoder is available to allow for dual carrier operation
One encoders is configured with a remux card to allow for multiple service transmission
Paradise modems allow communication via satellite (voice and data)
Power:  220V single phase or a 3,3Kva silent generator.

A UPS is fitted allowing up to 45 minutes of operation in the event of power loss.
Fly away option
Each system is demountable to allow for a single or dual thread fly away system.
The fly away dish is a 1,2m Gigasat with a 43dB Tx gain.
Video and audio monitoring is part of the std. fly away configuration.

2 CAMERA DSNG is developed for cost-effective News & Sport 20 camera productions. It is a satellite production facility
with generator incorporated in one vehicle.