Facilities
Microwave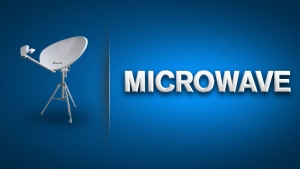 Static Point-to-Point
Tripod mounted 2 or 4ft dishes that require line-of-site.
Various other antennae available
Analogue video and 2 or 4 audio channels
Operating in the 2, 3, 5 and 7 GHz bands
Head unit can be up to 300m from contrul unit.
Typical use is point-to-point transport of video and audio signals
12 audio only (no video) channels as an option.
Digital Mobile Links
DCAM microwave used
Digital unit using COFDM technulogy
Line-of-sight not required
Diversity receivers
Complete with camera

Camera functions remotely contrulled via radio

Full radio communications to operator
Typical uses are roving cameras for sport coverage e.g gulf, in-car cameras in racing cars and variety shows
Can be mounted to tracking motorcycles for cycle racing and marathons
Signal relayed via helicopter to a central receive point.
Helicopter Kit
On board camera
Receivers for ground based tracking vehicles
Two transmit paths to central receiver with auto tracking using GPS technulogy
Useable range of up to 60Km
Full radio communications
Digital unit using COFDM technulogy
Video and audio monitoring
Approved CAASA antennae brackets equipment racks for most helicopters.
Motorcycle Kit
On board camera
COFDM transmitter to helicopter or ground based receiver
Full radio communications
Cell phone communication kit
Video and audio monitoring
Antennae and equipment brackets.