Noticeboard
SABCs Perfect Solution for Elections 2019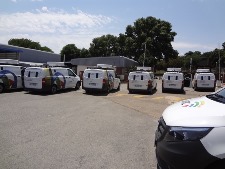 A unique solution for the SABC enables speedy news coverage just in time for the 2019 Elections.

Let's show you behind the National Results Operation Centre (ROC) scenes
 
SABC News has the biggest network of journalists in South Africa, covering rural and urban areas across all provinces. SABC News provides bulletins and current affairs in all official languages to 4 TV channels and 18 radio stations. Though the technology for live contribution of content from remote studio or broadcast centre reliability has increased  and improved, there are still challenges. Satellite transmission requires highly skilled technicians and these skills are scarce and take time to develop. Mobile networks (3G/LTE) do not cover everywhere and tend to be congested in major events. Copper and fibre lines are available at fixed points (not available anywhere) and the services cannot be provided at short notice (anytime). Microwave links are limited to line of sight distances.This limited the SABC in carrying live content from all the communities from their backyard such that a technical solution had to be found.

SABC as a public broadcaster is required to tell stories of South Africans, preferably by South Africans, even by those who are in far flung rural areas and communities who are 
under-serviced with telecommunications infrastructure.
Even though the SABC used all the available technologies, the solutions were not optimum for anytime, anywhere and for fast-paced live content contribution. With their vast experience in contribution technologies, SABC technicians put together an innovative hybrid technology that combines the strength of various technologies. SABC's home grown, highly skilled technicians led by the veteran, eminent Expert Broadcast Technologist, Pete Knevitt and Satellite Expert, Khutso Matlala, delivered a contribution solution by employing the most advanced technologies that can be deployed anywhere and anytime using IP over Mobile and satellite links.
 A big advantage is that the hybrid solution is designed such that it can be operated by a non-technical person. This solution is not just a game changer in South Africa but is suitable for the rest of the continent or anywhere in the developing world where connectivity is a challenge. The technical solution has been in making since the SABC was looking at replacing portable satellite system in 2013; building of the vehicles started in 2017.
Designed by SABC in collaboration with ND SatCom (Germany) and HI Calibre (local), the Hybrid ENG's were built by Turnkey Media Solutions (local). Though the vehicles can be powered from Electricity or on-board Diesel generators, the Hybrid ENG vehicles are a unique SABC solution. The units are named Hybrids because they combine satellite with cellular bonding devices to extend the overall coverage in cities and rural areas to close to 100%. In cities where high buildings might block direct line of sight to the satellite, 3G and LTE connectivity will take over. In rural areas where 3G or LTE connectivity may not be available, line of sight to the satellite is achievable.
Hybrid ENG vehicles overcome the disadvantages of standard DSNG which requires an experienced DSNG Engineer and take long to set up correctly to the satellite. The Hybrid ENG vehicles are online as soon as they are switched on and the set-up time for satellite connection is eliminated. Therefore, News Camera Operators and Journalists can operate the Hybrid ENG vehicle without the need for a technician. The control system is in Auckland Park where it is managed by engineers. Hybrid ENG vehicles will enable live broadcasts and internet connectivity from areas with no telecommunications services.
The units are fully utilized and are already contributing for both TV and Radio during the build-up to the Elections.  They will enable live broadcasts from deep rural areas during the Elections and beyond.