Noticeboard
The 83rd Anniversary of the SABC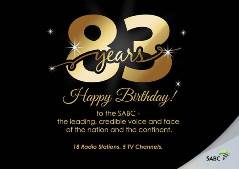 Here's to a successful digitally-enabled future!
The SABC Group Chief Executive Officer, Mr Madoda Mxakwe, reminds us that the 01 August 2019 is the 83rd anniversary of the SABC. "This milestone marks more than eight decades of inspirational stories and memorable moments, delivered to millions of South Africans, who rely on the public broadcaster for their information, education and entertainment needs", says the GCEO. He notes that since its official launch in 1936, and as with other public broadcasters globally, the SABC has evolved and undergone significant changes due to pervasive developments in the digital arena, and dynamics in the political and economic environments.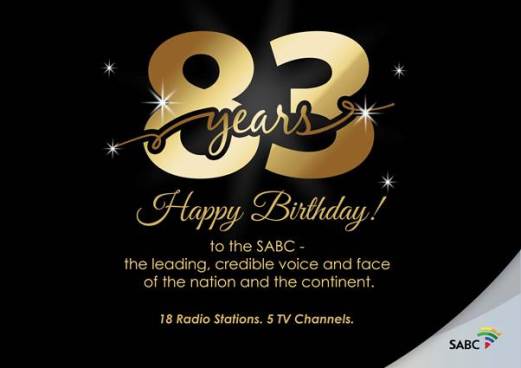 Content below sourced from Wikipedia:
 
In 1971, the SABC was finally allowed to introduce a television service.
With the speed technology develops nowadays, it is hard to believe that television in South Africa was introduced just a little more than 40 years ago.
Television in South Africa was introduced in 1976. Despite being the most economically advanced country in Africa, South Africa was relatively late in introducing television broadcasting to its population.
Even though the state-controlled South African Broadcasting Corporation (SABC) had a virtual monopoly on radio broadcasting, it also saw the new medium as a threat to Afrikaans and the Afrikaner volk, giving undue prominence to English, and creating unfair competition for the Afrikaans press.
Prime Minister Hendrik Verwoerd compared television with atomic bombs and poison gas, claiming that "they are modern things, but that does not mean they are desirable. The government has to watch for any dangers to the people, both spiritual and physical."
Dr. Albert Hertzog, Minister for Posts and Telegraphs at the time, said that TV would come to South Africa "over his dead body," denouncing it as "a miniature bioscope (cinema) over which parents would have no control." He also argued that "South Africa would have to import films showing race mixing; and advertising would make (non-white) Africans dissatisfied with their lot." The new medium was then regarded as the "devil's own box, for disseminating communism and immorality."
However, many white South Africans, including some Afrikaners, did not share Hertzog's "reactionary" views and regarded the hostility towards what he called "the little black box" as irrational. When Neil Armstrong became the first man to set foot on the Moon in 1969, South Africa was one of the few countries unable to watch the event live, prompting one newspaper to remark, "The moon film has proved to be the last straw… The situation is becoming a source of embarrassment for the country." In response to public demand, the government arranged limited viewings of the landing, in which people were able to watch recorded footage for 15 minutes.
The opposition United Party pointed out that even less economically advanced countries in Africa had already introduced television, while South Africa's self-governing British colonial neighbour Southern Rhodesia had introduced it by 1961.
In the absence of television in South Africa, a radio version of the British television series 'the Avengers'was produced by Sonovision for SABC's commercial network, Springbok Radio in 1972. While it only ran for eighteen months, the radio series proved highly popular.
Slow introduction
In 1971, the SABC was finally allowed to introduce a television service. Initially, the proposal was for two television channels, one in English and Afrikaans, aimed at white audiences, and another, known as TV Bantu, aimed at black viewers, but when television was finally introduced, there was only one channel. Experimental broadcasts in the main cities began on 5 May 1975, before nationwide service commenced on 5 January 1976.
In common with most of Western Europe, South Africa used the PAL system for colour television, being only the second terrestrial television service in Africa to launch with a colour-only service. The Government, advised by SABC technicians, took the view that colour television would have to be available so as to avoid a costly migration from black-and-white broadcasting technology.
Initially, the TV service was funded entirely through a licence fee as in the UK, but advertising began in 1978.
In 1981, a second channel was introduced, broadcasting in African languages such as Zulu, Xhosa, Sotho and Tswana. The main channel, then called TV1, was divided evenly between English and Afrikaans. Subtitling on TV was almost non-existent, the assumption being that people had no desire to watch programmes in languages they did not speak.
In 1986, the SABC's monopoly was challenged by the launch of a subscription-based service known as M-Net, backed by a consortium of newspaper publishers. However, as part of its licensing restrictions, it could not broadcast news programmes, which were still the preserve of the SABC, although M-Net started broadcasting a current affairs programme Carte Blanche in 1988. As the state-controlled broadcaster, the SABC was accused of bias towards the apartheid regime, giving only limited coverage to opposition politicians.

Videos below reflect on how far we have come as an organization: