Noticeboard
Watch Head of State on SABC Platfforms Address SA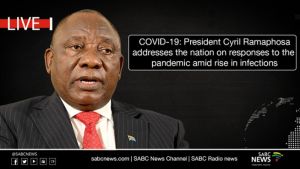 The  President gets to address the nation during the Mandela Month when the country is engulfed in condemned criminal and violent protests, and also faced with COVID-19 casualties that are increasing by day.


A day later (today, the 12 July 2021), a message asking for people to calm down and think about the consequences of it all..


16 July 2021: Never before has the Head of State held 3 consecutive meetings with the SA citizens within one week. This will be a speech after the storm.