Noticeboard
Siyamthanda uKolisi for leading South Africa to victory in Japans Rugby World Cup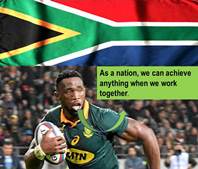 Grateful to be South African, we thank the Springboks for making it happen!
In the words of our adored colleague, an impeccable broadcaster who sadly passed on yesterday morning, the 1st November 2019, the late Xolani Gwala, we are indeed 'grateful' at this moment. Xolani leaves us with a message about gratitude: "Be grateful that you are South African, be grateful..... Be grateful". May Xolani's soul rest in peace.

Indeed we are grateful for being patriotic citizens. When Siyamthanda Kolisi spoke to global citizens watching and experiencing a happy moment at South Africa's victory over England in Japan a few minutes ago, he thanked all South Africans from various backgrounds of our beautiful country for support, even more beautiful when every SA citizen is jumping with joy. Siya has "seen what a World Cup does for our country". This time, he claimed victory for all to witness the spectacular scene. 

We are so, so grateful to the coach and his boys for reminding us what it means to put the fans and the country first. 

And, we shall forever be grateful to the national public broadcaster for capturing this ecstatic and captivating moment, making it possible for all South Africans to be proudly South African!