Facilities
Television Media Facilities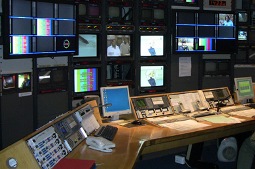 How does Henley TV Media fit into the SABC?
 
TV Media is a Business Unit of the SABC under the Technology Division. It is a Television facilities provider in Broadcast, Production and Post-production for SABC1, SABC2, SABC3, SABC Encore, SABC Sport, SABC News, SABC Education and all SABC Content commissioned Productions.

These facilities are situated in the Henley Studio Complex in Auckland Park and form part of the SABC Auckland Park Campus. They were built between 1972 and 1974 for the specific use and requirements of the SABC. Browse through Galleries page for production facilities.
   
The SABC introduced Television into South Africa in 1975 and in the early years of Television the SABC was the only producer and broadcaster of Television programmes. As the Broadcasting Industry developed, new broadcasters and programme producers started competing in the market place. The SABC is continually investing capital in its television facilities, primarily to service the internal clients and offer the best possible product to the viewers, also in order to stay relevant as well as competitive in the Production and Post-Production open market.

 
What services are on offer?
 
Graphics
We are the artists, storytellers, creative geniuses, and Multi-skilled Playout CG Operators for the SABC.  What better way than to bring your brand, your business alive, through Motion TV Graphics and CG Playout. We have a strong , dedicated team of 3 Senior Graphic Artists who have a tendency of going above and beyond for our clients. We conceptualise, create, and animate finishing off with a masterpiece. The team is deadline driven and work with passion and full steam ahead.
We have an extensive portfolio that showcase anything from Opening Sequences, Stings, Lower Thirds/straps, Clock/tickers, Crawlers, Full Page Graphics, Pop Up Graphics, Line ups, End Boards, Promos, Marketing AVs, Corner Logos, Opening and Closing Billboards and more.
The artists are known for their advanced fluency in the latest Adobe Creative Suite and 3D Software.
So, after we create, we playout!
We have 4 Multiskilled operators who are meticulous in their productions and are dedicated to creating Graphic toolkits on the international standard, Pixel Power Character Generator Playout system. The Multiskilled CG Operators are responsible for playing out Graphics , that you are most likely to see on air, whether it is client sponsorships graphics :  Corner Clocks(Tickers), Squeeze backs, Lower thirds, Full Page Graphics, Crawlers or high end TV Graphics , that are stings, transition wipes, bumpers, opening sequences for National and international events such as the Olympic Games, PSL Matches, Soccer World Cup, this team will make sure your production/brand plays out on air successfully and reaches the people of South Africa.
At TV Graphics & CG Playout we are dedicated and committed to providing you with nothing but the best. We house the state-of-the-art equipment in both Graphics and CG Playout Facilities that enable us to deliver service greatness in every project and production.
 
MCC
MCC provides services such as contribution and distribution for SABC News, SABC Sport, SABC1, 2, 3, Parliament channel ,19 Radio stations as well as SABC Corporate Communications (staff address) and occasional external local/international clients; this encompasses monitoring of the signals. The services facilitated are delivered as baseband in different transport modes such as ME, Satellite, DMNG (Digital Mobile News Gathering), and fiber optic
What we can offer for external client is:
News Studio facility bookings which includes 1 camera ,1 camera operator as well as a 1 sound operator.
4wire Comms/IFB
We can book studios in all our  9 SABC Regions.
We can offer an on-pass of footage to different broadcasting bureaus around the world as long as the client is registered with SABC vendor master for billing purposes.* Footage sent with approval from News/Channels*
Media Transfers
•             Media Transfers imports complete programmes to Dalet
•             Transcodes files if necessary.
•             QCs (Technical Quality Control) said content after approval by CEs/Buyers
•             Records programmes to Dalet as booked.
•             Ingests programmes from Betacam, XDCam and LTO as required.
•             Transfers content from Betacam to hard drive as required.
•             Verifies promos and adverts for playout
The above processes require bookings/permission from the internal partners.
Should there be a requirement from an outside client for one of our services. E.g., QC of a programme, then it would be appropriate to advertise our services and perhaps have a virtual tour of the facility.

 

FINAL CONTROL CENTRE

 
The Final Control Centre (FCC) is the core of broadcasting and provides the services to the SABC Channels 1, 2, 3, SABC Education, SABC Parliament, SABC Sport and SABC News on various platforms.
FCC's supply the following resources:
•             Play-Out Facilities for the broadcast of Television programmes to the Public on both Terrestrial, Satellite Platforms & Over The Top (OTT) with Telkom One. [Sentech Digital Terrestrial Television (DTT) and Direct To Home (DTH – Satellite) platforms].
•             Media preparation facilities for the clean-up of transmission schedules and checking material for time codes and broadcast readiness.
•             Ensuring that all events within live timeslots are double checked and corrected before a live event commences.
•             Ensuring that the correct adverts and sponsorship material is played out as scheduled. The area also plays an integral role in the generation of revenue for the SABC as all advertising and sponsorships are played out from these facilities. FCC facilities are broadcasting 24 hours per day and therefore have to be staffed for 24 hours 7 days a week
•             Insertion of SCTE Integration* – for OTT/Telkom One Transmission Schedules across all channels on Terrestrial platform. (On the Pipe line – failing which Plus one channels will be implemented meaning more Transmission (TX) schedules for Media Preparation and broadcasting).
 
Post Production: Video Editing

Visit the Galleries page for images.

Video editing offers services to internal clients, Sport, News Current Affairs,  On Air Channels and external clients.  Wide variety of programs are edited in our facilities:  Sport, Drama, Documentaries, Travelling shows, promos  and many more
 16 Avid Media Composer Editing Suites
2 DS Nitris Compositing Suites
3 Final Cut Pro Suites
Shared workspace which enables seamless workflows between studio, IBC, post production and transmission.
Past and present  shows edited internally
Hourly Rates
Specification

And more of your post production facilities...