Event
Comrades Marathon 2019 Live Broadcast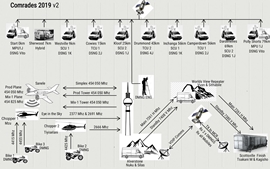 'Sizonqoba- Together We Triumph'
Event Schedule
9 Jun 2019 05:30 AM - 05:30 PM past event
Starts from Durban City Hall and ends at Scottsville Racecourse in Pietermaritzburg
South Africa.
The 94th Comrades Marathon will be an Up Run on Sunday, 9 June 2019. The race starts at the Durban City Hall at 05h30 and ends 12 hours later at the Scottsville Race Course, covering a distance of approximately 87km.
Those directly involved know that pulling off good sports coverage is challenging enough in a single location such as a stadium. One can then imagine challenges of covering an event that is constantly on the move, like a marathon or cycle race. SABC TV outside Broadcasts has the most advanced solution for such purposes. The complex solution incorporates several OB units, mobile MCUs, motorcycles, helicopters, fixed wing, satellite communications, bonded cellular microwave transmitters and voice over IP into a single, seamless workflow that requires a carefully coordinated interaction of a team of dedicated specialists.
Our Hi-Tech Team's role is reflected below. A broadcast coverage (broadcast live on SABC 2) of this event is outlined in technical detail on diagram below: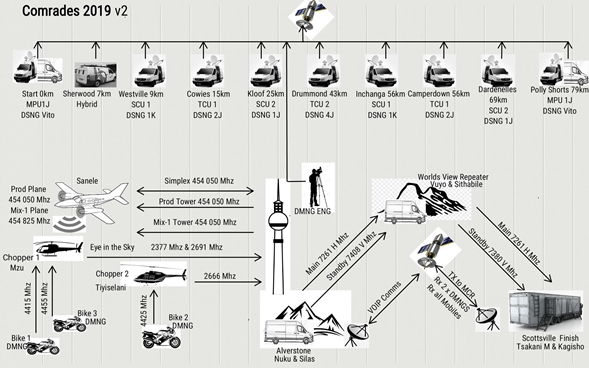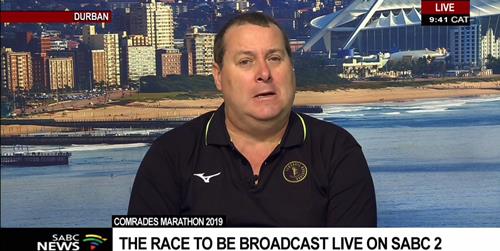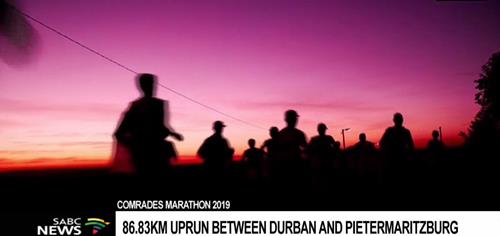 Comms
For video-on-the-move or +40km marathon, a cable camera from the OB Van covers about 5% of the marathon, so motor bikes are utilized to cover the marathon between the start and the finish point. The bikes use mobile cameras or camcorders and wireless communication systems. The primary wireless communication is cellular network technology or GSM where mobile phones are used to communicate with the cameramen on the bikes.
We use quad-band GSM mobile phone hybrids to dial the mobile devices on the bikes and the devices are set on "Auto Answer" so that when the line breaks it can immediately be dialled and answered without disturbing the cameraman on the bike. Depending on network availability from the mobile phone network service providers, communication can be smooth and clear throughout the marathon. In the areas where there's poor network signal on cellular network, RF Technology is used.
Handheld UHF Radios are used for comms to the bike cameramen. Since the helicopter hovers above the bike all the time, communication can be clear. In cases where the signal is out of range, a fixed wing aircraft, which is fitted with receive and transmit antennas, acts as a comms repeater.
We also use bonded cellular systems and VOIP communication for a more stable and clearer communication path.
A technician's role in this discipline is to set up and establish communication between the OB van, the bikes, tracking sites and the studio in Johannesburg, in marathons.
Motorbikes
In 2015 TVOB acquired two new BMW 1600 GT motorbikes for live transmission of sport/news productions. These high-torque bikes are ideal for low speed filming and are completely rigged and ready to go when used in conjunction with bonded cellular units, DMNG (digital mobile news gathering). The bikes are fully equipped with communication facilities with a stand-by (different platform) to and from the remote location.
Two HD video sources (1080i50) are available from the motorbikes. Pictures get transmitted to the helicopter/server with the latest HD transmission equipment. Video content distribution thru the chopper is done in the 4 GHz range.
All equipment is powered locally from the bike so there is no need to carry extra batteries. Marathons/productions often take place in harsh RF environments, where size and weight combined with broadcast performance is important. A compact digital microwave transmitter is fitted on each bike to tackle these challenges.
Helicopter Receive
Helicopter receive is better known as helicopter tracking, which is a major part of the complex process of broadcasting long road races and special productions.
The improvement in video quality has been our biggest advantage from the technology advancements over the last 10 years, with the robustness of the links between helicopter and tracking site being an advantage, and another of the improved practicality of the links.
Video quality is now HD H.264 from the origin of the signal (the camera on the bike) to the repeater in the helicopter and then to the helicopter tracking site and from there to the OB site at the finish with the final contribution link via satellite to SABC MCR.
In the past we constantly switched from different formats like analogue to standard definition and ASI just to get the signal through its path but now we are able to keep the signal in the ASI format until the OB at the finish where the pictures need to be seen and used by the production team. This method preserves the high quality of the original picture because there is no decoding and encoding at the various repeater points before the signal reaches the OB point.
In the past you needed to be above a significant RF signal level to be able to decode the picture, for example – 55 dB signal strength for analog and about -70 for SD links. Currently with our very robust and efficient links we can decode these pictures as long as we can sniff a bit of the signal between -85 dB and -90 dB. What this translates to is that we can track the helicopters for much longer distances, literally being limited only by the earth's curvature. This big advancement and gain is due to our new and highly efficient and linear amplifiers, modulators and demodulators by Gigawave.
The system is far more practical than it used to be as well. In the past we needed to rig an RF head for every signal that we needed to transmit or receive between OB point and tracking site at fixed bandwidths. This has now changed. The current links can transmit up to 90 Mb/s of data at customizable bandwidth slots of up to 30 MHz meaning that we can now multiplex multiple and different audio and video streams on to one RF head and one Triax cable between points. This means that we don't have to carry or transport as many RF heads, triax cables, dishes and tripods like we used to. The encoders and decoders can also process two video streams with four audios each simultaneously and you can still swap any of the encoder modules for an ASI multiplexer allowing the freedom to choose various configurations.
We are now able to cover ultra-marathons such as the 90 Km Comrades Marathon without any video break up between the helicopter and the tracking site, giving the viewer at home smooth glitch-free HD viewing of their favourite road races and aerial pictures.
Radio Comms and IP Comms
There are five main comms systems that we use:
VOIP (Voice over IP): This type of communication is purely network based; we mainly use it on the Ethernet back-bone via an ADSL router that creates a VPN (Virtual Private Network) link from the Master Control Room and the site that the far end system is being used.  We can, through on ADSL line, create up to 50 independent four wire comms lines that can be used to communicate anywhere in the world.
This system was first used by SABC SABC in 2010 for the FIFA World Cup. It was used to communicate between the IBC, SABC MCR as well as to the studios at the Sandton Convention. It has also been used for the Brazil FIFA World Cup 2014 to communicate between the SABC crew in Brazil and the SABC studios in Johannesburg. Recently it has also been used for the Rugby World Cup 2015.
SIP (Session Initialisation Protocol): is also a system interface that we implement at SABC for comms to a cell phone via 3G as well as for our internal conference calls that run on the same VOIP server as the system above creating a system that is very flexible.
ISDN: This system is in the process of being phased out by the service provider, Telkom. We mainly use this interface when connecting to GSM, analogue systems or when ADSL lines are not available.
GSM Hybrids: GSM hybrids are used mainly in circumstances where there is no Telkom access; sometimes this could be on top of a mountain or on a farm. This is also implemented for breaking news applications where there would not be time for a line to be placed at the venue. On the two motorbikes that we have recently procured, a GSM hybrid has been developed in-house.
Radio Communications: When there is a need to communicate over vast distances (up to 40km) we use radio communications. This is implemented mainly when we cover marathons. We use a fixed wing aircraft that repeats the comms signals and up to three helicopters and four motorbikes that receive the comms signals from the fixed wing. Recently SABC has procured digital radios that give superior bandwidth and quality over analogue radios.
Satellite Transmissions
This is the form of transmission that we use to get the signal from a remote point back to MCR, mainly for sports and news productions.
Satellite transmission equipment is built into Digital Satellite News Gathering (DSNG) vans for ease of operation. But, we also have flyaway satellite equipment that comes in pieces and require assembling first before operating. The way that satellite communication works is that the signal is sent on a designated frequency with specified parameters to the satellite in space, which has several transponders. The transponders then amplify the signal and retransmit it back to Earth on the downlink frequency. Our Main Control Room (MCR) receives the downlinked signal for further processing at Auckland Park.
We make use of several satellites on an ad hoc basis. The choice of which satellite to use is dependent on its footprint and the strength it has in the particular region in which we would like to operate.
For marathon productions, satellite transmission still plays a critical role. We have several single camera units (SCU) that are positioned at critical points on the route. We have had as many as 11 positions on the Comrades Marathon, where some of the SCUs cover two positions. The second busiest event in terms of SCU positions is the Two Oceans Marathon in Cape Town. These SCU positions generally make use of a DSNG or a flyaway unit to transmit the signal back to the finish position, where they will be downlinked and handed over to production in the OB van. After the OB van, these are then sent for final uplink, also via satellite back to MCR.
Bonded Cellular
The current bonded cellular technology uses eight built-in cellular modems to combine  all eight signals together into a single throughput. This enables us to use all of the available bandwidth to transmit video and audio. Of course it all depends on the bandwidth that is available to us in any particular area. But we can also expand upon what the capacity offered by the eight internal modems. We can optimize the connection by adding external modems. We are able to move data at high rates. Most of the time we get 10Mb/s. On a good day that can go to over 20Mb/s. The units offer us a lot of flexibility in terms of the kinds of connections we can use and the data rates it can handle. We can connect using WiFi and LAN. We can connect via satellite using ASI (asynchronous serial interface) output.
The DMNG, our recently acquired bonded cellular system, has a number of functions. There is the 'live' function, which enables you to transmit live in real-time from the unit.  Beside transmitting live, you can also record or auto-record while going out live. The unit can also facilitate audio comms through the cellphone networks and it offers a number of connectors such as BNC for SDI (HD and SD) and HDMI. It can handle both interlaced and progressive video. You have the option to change the aspect ratio to match your source.
We can also use the DMNG for streaming. Let's says we are broadcasting live through the unit on one of the SABC channels, we can also go out at the same time to YouTube or any other platform for streaming. We can stream using apps on mobile devices.

We marvel at the beauty of an end- product when consuming content from our TV screens, mobile phones, online platforms without recognizing those who make it happen behind the screens.

Babalwa Tyekela
All Competitions