Event
SA Commemorates International Nurses Day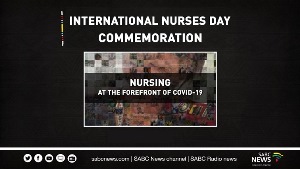 Global heroes and heroines recognized.
Event Schedule
12 May 2020 10:00 AM - 11:00 AM past event
As the World commemorates International Nurses Day, Health Minister Doctor Zweli Mkhize holds a special candlelight ceremony at the King Edward hospital in Durban. The day commemorates the dedication and contribution of nurses around the world. This year the focus is also on the brave nurses treating COVID-19 patients on the frontlines.
For more news, visit sabcnews.com and also #SABCNews, #Coronavirus, #COVID19 on Social Media.
All Competitions