Radio Broadcast Facilities
Outside Broadcasts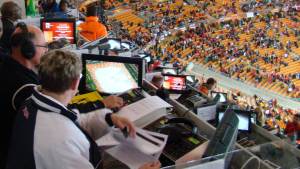 Radio Media Outside Broadcasts
In a sports mad nation like South Africa, it stands to reason that the broadcast of sporting events is very high on the agenda of the national public broadcaster. Therefore Radio Media has a substantial OB department in each of the 9 regions of South Africa.  It consists of OB vehicles fitted with recording and broadcast equipment and various lose pieces of equipment which can be put together in a variety of configurations to suit the nature of any outside broadcast.

Radio Media's OB units and equipment can be made operational within hours in the event of a major news story breaking.  The units are staffed by fully qualified technicians trained in live entertainment and broadcasting events. Adaptable to any outside studio recording or broadcasting situation, these units are unique, sought-after broadcast and communication tools. The units are air-conditioned and acoustically treated.

Radio Media can also assemble studios at any OB venue by using individual pieces of broadcast equipment which are built into fly-away cases. This can be set up as a studio anywhere, anytime to bring a live broadcast to radio listeners. This is done particularly at the IBC during elections where each radio station has its own studio to bring election results to the nation.  The portable equipment can be taken anywhere in the world and was used for soccer broadcasts in places like Poland, Tanzania, Swaziland and Kenya.  

Radio Media Remote caters for all radio outside productions like news and current affairs, sport, music, and church broadcasts and at times providing audio to television outside broadcasts as well.  Recordings include choirs, jazz concerts and classical music.
Radio Media Remote is dedicated to providing comprehensive and professional audio facilities and services through skilled personnel and professional audio equipment.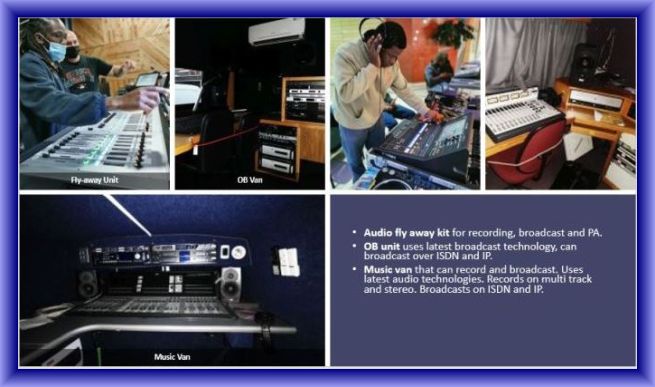 Radio Broadcast Facilities
more