Radio Broadcast Facilities
Radio Main Control (RMC), Auckland Park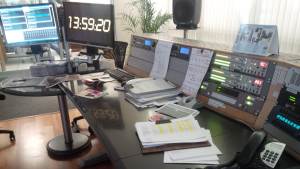 Radio Main Control (RMC), Auckland Park
Radio Main Control (RMC), Auckland Park:
The RMC is the main hub of all the RMC's in the country.  Each SABC centre has a satellite RMC but the one in Johannesburg does the bulk of signal distributions.
• RMC is the centre of the Star Network of high quality broadcast lines linking all SABC centres, allowing all radio stations to receive broadcast material from the whole country.  This enables every radio station to be a truly national station even though they only have locally based studios.
• RMC coordinates audio conferencing between all SABC regions to enable the coordination of News gathering.
• Radio Outside Broadcasts are also coordinated and distributed to all SABC radio stations.
• Distribution of SABC radio stations originating in Johannesburg like SAFM, RSG, R2000, 5Fm, MetroFm and Channel Africa and enabling add splits.
• Distribution of SABC Radio Stations on the DTT platform.
Technical:
• 2500x2500 LAWO Digital router controlled by VSM (Virtual Studio Manager).  All live radio are monitored by the DSP in the LAWO Rooter.
• All distribution feeds pre-processed to ensure highest quality with Ariaan processors.
• Control of playout machines are also done by the LAWO Router.
• ISDN Codec units are used for radio outside broadcasts.
•
Broadcast Clients who use RMC are:
- Ikwekwezi FM
- Phalaphala FM
- RSG, Lesedi FM
- Thobela FM
- 5FM
- Ligwalagwala FM
- Radio 2000
- Metro FM
- Motsweding FM
- Ukhozi FM
- SAFM
- Munghana Lonene FM
- Umhlobo Wenene FM
- Lotus Fm.
- XK Fm
- Tru Fm
- GHFM (Good Hope Fm)
- Channel Africa
Radio Broadcast Facilities
more