Multimedia
Broadcast Facilities Career Expo North West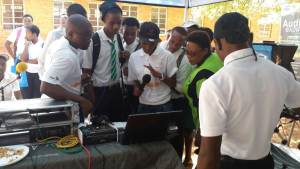 Broadcast Facilities Career Expo North West
Broadcast facilities (BF) North West has a variety of services it renders, among them are career exhibitions. These exhibitions explain in detail the technical involvement in broadcasting for both Television and Radio. On the 28 February 2015, an exhibition of this nature was held at Batloung High School in Ramatlabama.
BF together with the department of Police services and the North West University were part of the exhibition at Batloung High school. The aim of this exhibition was to introduce learners from grade 10-12 to the field of technology. As part of the exhibition learners had the opportunity to work with various equipment such as the Netop, Autocue and a small PA setup. This gave them the opportunity to fully understand the technical aspects of what it entails for a picture to  show on TV.
As the day progressed more and more learners were intrigued by the phenomena that is technology.  It was rather interesting to listen to some of the perceptions the learners had about the radio and television industry before the exhibition. Although many of the learners started off the day liking the idea of being Television and Radio presenters, at the end of the exhibition learners were looking into careers within technology.
It was indeed a successful day.