Media Library
Record Library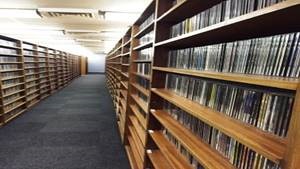 SABC Record Library
Record Library
"If music be the food of life …" walk in. This well-known quote, adapted, encapsulates the user friendly welcome extended by the
Record Library on the K1 level of Radio Studios. Often, recorded music, previously unavailable, becomes a delightful reality on computer monitors, to reveal the gems housed in the Record Library.
All genres of recorded music, including Jazz, Gospel, Kwaito, Rap, Rave, Classical, World, Light, Mood, Sound Effects and others,
are regularly accessed by staff and made available to internal clients.
The Record Library software to catalogue and search music albums and tracks was specially developed by library staff and external consultants in order to meet service requirements. This library strives to make the most recently released material available to borrowers.
Representatives of the large and independent record labels supply their latest material to the Record Library on a weekly basis.
The library staff are able to source discs that may not be readily available in South Africa. Inquiries from the external parties wanting
record label or artist information is commonplace. While the library is not accessible to external parties, the staff readily provide
information to enable them to trace other sources.
The Record Library collection was established in the mid 1950's.
The vast collection comprises of at least:
• 200 000 LP's
• 23 000 Classical CDs
• 110 000 Light CDs
Note to the Artists / Record Companies
The SABC Record Libraries is a service for the Artists and Record Companies that makes  music available for Radio Stations to use.  
THE SABC RECORD LIBRARY IS NOT RESPONSIBLE  for air play, it is up to *The Artists or the Record Companies to 
market them with the different SABC Radio Stations.
The following info is needed on the album before it can be processed into the Record Library System.   
Artists  :  
Song title :   
Composer :   
Publisher : optional   
Label  :  
Catalog no. : (e.g.: RCA CDRCA001)  
CD's without all information required will not be accepted
------
On a lighter note, the Record Library has complete collections (music and documentation) of the SA TOP 20 since 1967.
The Top 20 was first broadcast on the now defunct Springbok Radio, with renowned DJ David Gresham of "keep your feet on the ground and reach for the stars" fame. At present the program is presented on RSG by Fritz Klaaste.
                              
William Rapabi              
Team Leader: Loans Section
Tel:   +27 11-714-3194       
Fax:  +27 11-714-4307
Email: rapabiwm@sabc.co.za 
Marinda Wolmarans
Systems Administrator
Tel:   +27 11-714-2034       
Fax:  +27 11-714-4307
E-mail: wolmaransm@sabc.co.za
Vickey Steyn
Librarian
Tel:   + 2711 714 2022
Fax:   +27 11-714-4307
E-mail: steynw@sabc.co.za         
Tshilidzi Matoro
Librarian
Tel:   +27 11 714 2009
Fax:  +27 11-714-4307
E-mail: matoroTR@sabc.co.za     
Rethabile Mofokeng
Librarian
Tel:   +27 11 714 3194
Fax:  +27 11-714-4307
E-mail: mofokengRM@sabc.co.za        
Lepota Mabote
Librarian
Tel:   +27 11 714 3194
Fax:  +27 11-714-4307
E-mail: mabotela@sabc.co.za