Media Library
Information and Music Library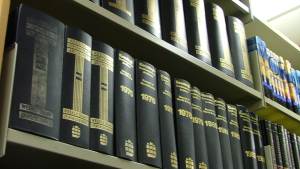 Delivering world class service to library users.
Before 1961 the SABC had no Library. Staff members and departments ordered books individually and did not organise or store them properly. Dr Burgers – the then Head of the Afrikaans Service – identified the need for this to be done.  The result was the establishment of a library in Johannesburg. The first librarian was Ms Rhoda Barry. She catalogued and organised the books, which at that time made up a small collection of mainly fiction and books that were presented by on radio announcers.

By 1979 the collection had grown to 10 000 books that were catalogued on a card system and comprised both fiction and non-fiction. During 1988 the library was computerised and started ordering and circulating periodicals on behalf of all SABC staff.

Core business:-
The core business of the Information Library is to deliver a World Class Service to the users of the library. When given a request to handle, this must be done immediately and very professional.

Staff must also have sufficient knowledge of the unique nature of the broadcasting environment, in which they work. They must be able to work under stress and also to understand that the journalists work under stressful circumstances.

The staff must also keep up to date with technological changes and must be willing to adapt to and implement these changes.

The staff must have sufficient knowledge about legal matters, especially the Copyright Act, Broadcasting Act and the Open Democracy Act.

The Vision of the Information Library is to be the leading information provider for the Public Broadcaster and its stakeholders

The Mission of the Information Library is: 
     to acquire and make available, at all times, information required by the library's users – both internal and external
     to provide relevant information upon request.

 
OUR SERVICES:

Newspaper Section Contact details:

Themba Mtshali        +27 11 714 4005       mtshalitoa@sabc.co.za 
Justice Leshilo           +27 11 714 4282       leshilosj@sabc.co.za
Nomakhosi Mthembu +27 11 714 4674       mtshalitoa@sabc.co.za

Newspaper cuttings consisting the following:

• General subjects – 12 408 files
• Biographies – 10 581 files
• TRC – 693 files
• Africa and South Africa – 1083 files
• Political Parties – 193 files
• SABC – 2 907 files
• 179 639 articles have been indexed electronically.

Book section Contact details:

Vuyelwa Mfula         +27 11 714 2818      mfulav@sabc.co.za 
Today the Information Library has a huge collection comprising of the following:
• 16338 books of all the subjects you can think of, from computer science and journalism to politics, form literature, management, and marketing to biographies.

Magazine section Contact details   
  
Agrineth Mashile        +27 11 714 3936     mashileam@sabc.co.za

This section consists of more than 85 Magazine titles. We have weekly, monthly, quarterly and annual (once off) and more than 39081 articles indexed in our system which is good for research. Biographies, finances, personalities and more form part of the magazine articles that are indexed.

Other services:

• SABC Radio bulletins
• Information requests from internal and external clients.
• Faxing, internet café, photo copy and print


Phindile Maringa (Manager: Lead)
Contact details   +27 11 714 3232     maringaph@sabc.co.za

Catalog link http://jhb-library/InmagicGenie/opac.aspx
Follow us on Twitter handle @sabcinfolib
Like our Facebook page - SABC Information Library
 
sabc:http://www.sabc.co.za