Event
The Most Beautiful Woman in The Universe Arrival Home in SA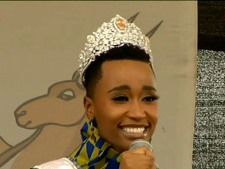 Known to the entire world as Zozibini Tunzi.
Event Schedule
8 Feb - 15 Feb 2020 09:00 AM - 09:00 PM past event
OR Tambo International Airport and South African Stage
Johannesburg, Gauteng, South Africa.
She was crowned as the universe's beauty queen after wooing the judges over, among other beauty attributes, questions on social issues and a deciding factor question as the right choice to be Miss Universe, a question that confirmed her level of intelligence, when she said, she grew up in a world where a woman who looks like her,with her kind of skin and her kind of hair was never considered to be beautiful (her statement on image below).

On arrival at the OR Tambo International Airport on Saturday, she was filled with emotion when she addressed thousands of South Africans, who were there only for her. The wet weather did not deter those who wanted to share their love in welcoming our beauty queen, South Africa's Representative. This was Zozi's first time to land on home soil  since she was crowned Miss Universe in Atlanta, USA in December last year.

Zozi will be on South African tour until the 15 February and has been invited to participate at Thursday's (13 February 2020) State of the Nation Address. How fulfilling it must be for her to know that President Ramaphosa has elected her as an ambassador for Gender-Based Violence (GBV) on the African continent! This announcement was shared with by Arts and Culture Deputy Minister Nocawe Mafu during Zozi's home-coming celebrations at a stadium in Mthatha, Eastern Cape.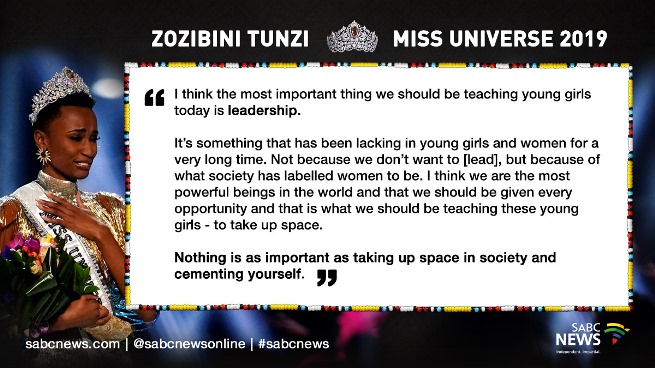 All Competitions