Multimedia
SABC EXTENDS THE CUT-OFF DATE FOR THE WRITTEN SUBMISSIONS OF THE REVIEW PROCESS OF ITS 2004 EDITORIAL POLICIES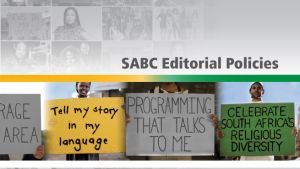 SABC EXTENDS THE DATE FOR THE WRITTEN SUBMISSIONS OF THE REVIEW PROCESS OF ITS EDITORIAL POLICIES
Johannesburg- Thursday, 31 August  2017 - The South African Broadcasting Corporation (SABC) has, following a great interest from the public, civic society organizations and other interested parties decided to extend the cut-off date for the written submissions of its Editorial Policies review process to the 29th of September 2017. The initial deadline was scheduled for today (Thursday, the 31st of August 2017).
All inputs received from the public will be consolidated and will inform a revised Editorial Policies document, which will then be released for public comment before being finalized.
Written submissions can be emailed to editorial@sabc.co.za or posted to SABC Private Bag X1, Aucklandpark, Johannesburg, South Africa, 2006. Submissions can also be made at any of the SABC's provincial offices.
The public can access the current SABC Editorial Policies in their preferred language at www.sabc.co.za/editorialpolicy.
For more information on the editorial policy consultation process, the public can go to the SABC News website http://www.sabc.co.za/news.
For general enquiries the public can contact the SABC's call centre 011 714 9111 / 011 714 9797.
END
Media Enquiries             
Mr. Kaizer Kganyago
SABC Spokesperson
082 306 8888