Multimedia
SABC exends closing date for written submissions on its draft Editorial Policy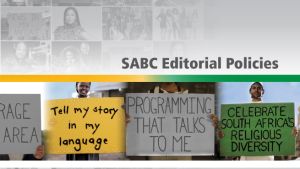 SABC exends closing date for written submissions on its draft Editorial Policy to 31 August 2018
MEDIA STATEMENT
SABC EXTENDS CLOSING DATE FOR WRITTEN SUBMISSIONS ON ITS DRAFT EDITORIAL POLICY TO 31 AUGUST 2018
Johannesburg –Tuesday 31 July 2018 – The South African Broadcasting Corporation (SABC) has taken a decision to extend the closing date for public written submissions into its draft editorial policy to Friday the 31st of August 2018. The initial date for submissions was Wednesday the 01st of August 2018. 
This follows a second round of public hearings across the country into the draft editorial policy, with the last hearing held in Johannesburg on the 31st of July 2018.
SABC Spokesperson, Mr Kaizer Kganyago stated that "We would like to express our gratitude to all the stakeholders who have already made submissions and inputs into the draft editorial policy. The decision to extend the submission date is informed by various reasons including providing stakeholders with ample time to make submissions, to make the process completely inclusive and the fact that there are interested stakeholders who have requested more time. We believe this extension will yield positive results in developing a policy document, which will be beneficial for all South Africans".
Members of the public, civil society groups and all stakeholders who have not submitted their inputs can access the draft editorial policy on www.sabc.co.za/editorialpolicy. Submissions and inputs on the draft policy can be sent via email to policy@sabc.co.za, as well as submitted through the SABC's provincial offices.
Ends

 
Issued By:                 Group Communications
Media Enquiries:      Kaizer Kganyago (SABC Spokesperson)
                                   082 306 8888